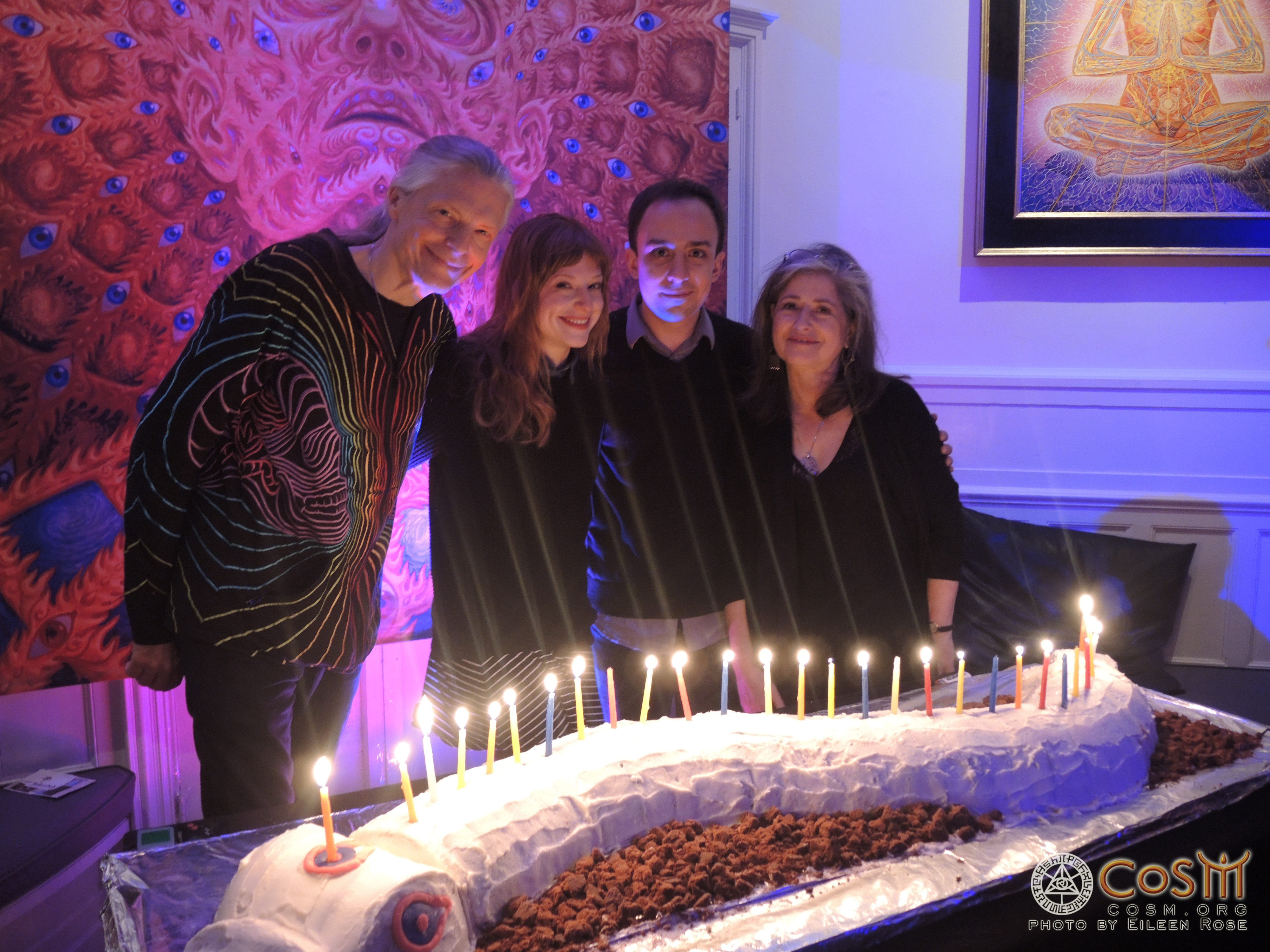 Alex Grey, Zena Grey, Brendt Rioux, & Allyson Grey gather around
the 60-layer rainbow snake to honor Alex's 60th, in the Year of the Water Snake.
Alex Grey's 60th birthday was a true celebration of life, family, and friends. Author, James Oroc, opened the night with a presentation that honored Alex and his achievements.  Alex then shared a presentation of Visionary Culture to the overflowing assembly of family and friends from all over the world. Highlighting his personal journey through his life as an artist, James shared his earliest work, which displayed themes of duality. Meeting his muse and eventual wife, Allyson, who inspired his Sacred Mirror series, and beyond.   Festivities began as Luis Campos and Gaudi took to the DJ booth and played phenomenal music to a packed dance floor. The walls of the room turned into morphing, kaleidoscopic digital projections of Alex's masterpieces, mixed by Johnathan Singer. Alex and Allyson held a semi-circled crowd around them as Allyson painted her signature Secret Writing, and Alex rendered a live, birthday self-portrait.  The night's climax came when a large rainbow serpent cake, made by Allyson and family in honor of Alex's Chinese zodiac sign, was revealed, wished upon, and then shared between everyone at the gathering.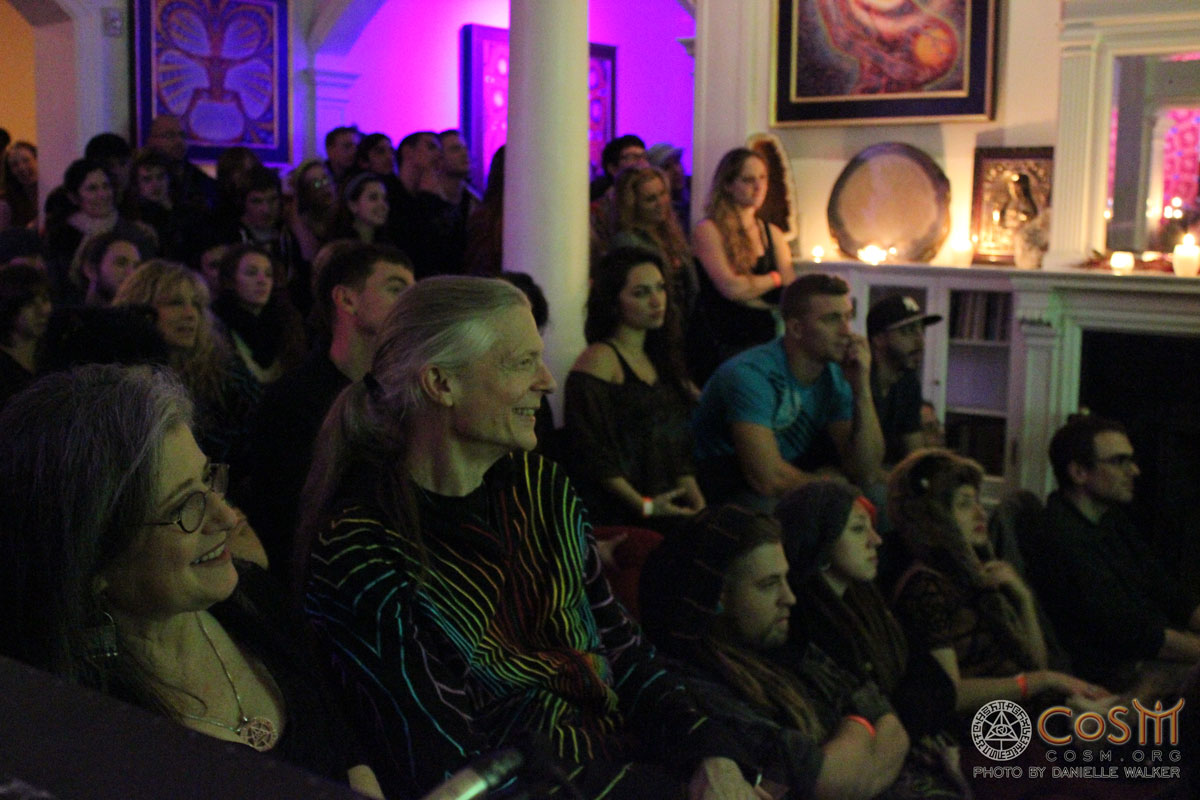 Allyson, Alex and friends enjoy the evening's presentations in the Grey House's library.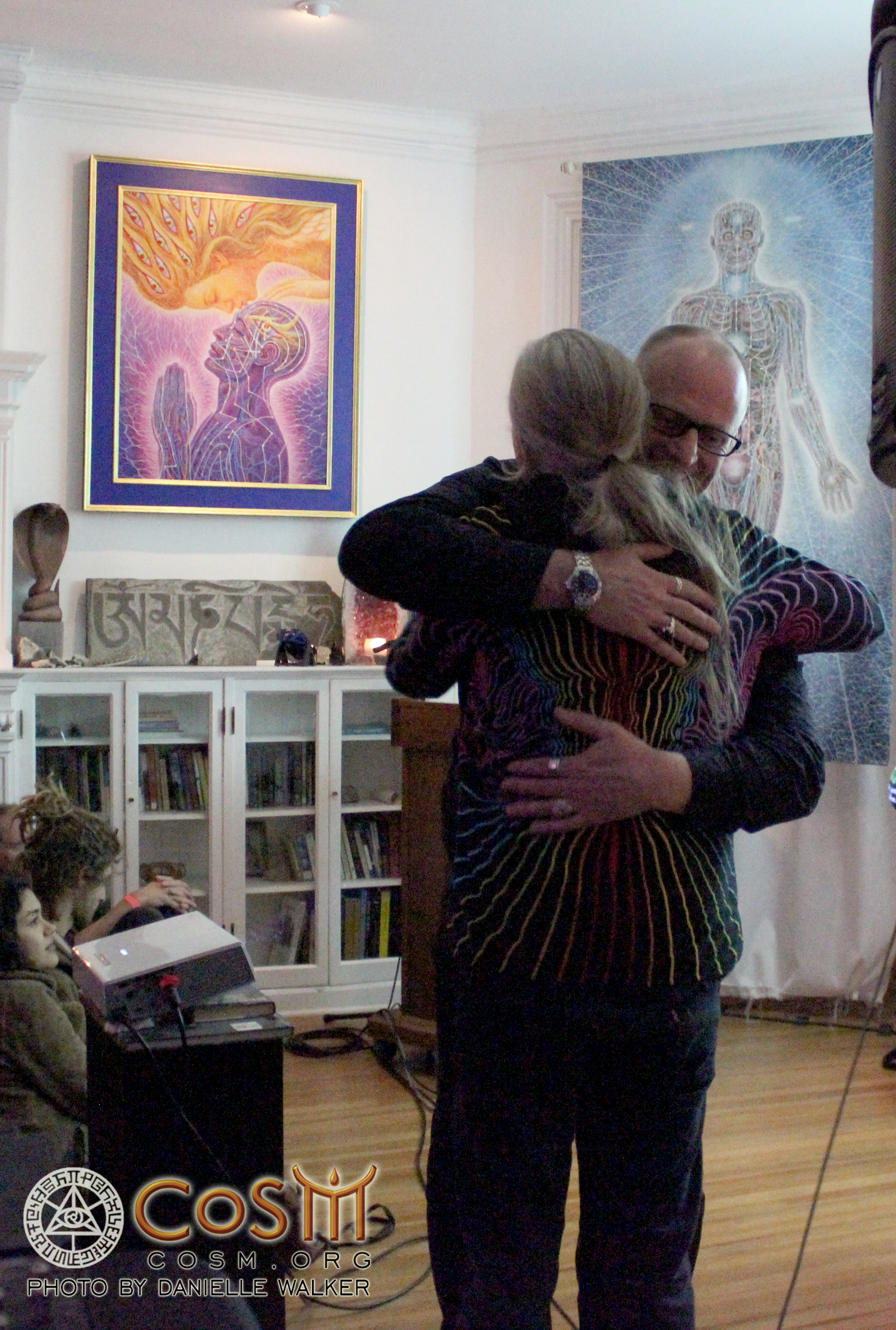 Alex and James "Roc" Oroc embrace after Oroc's tribute speech.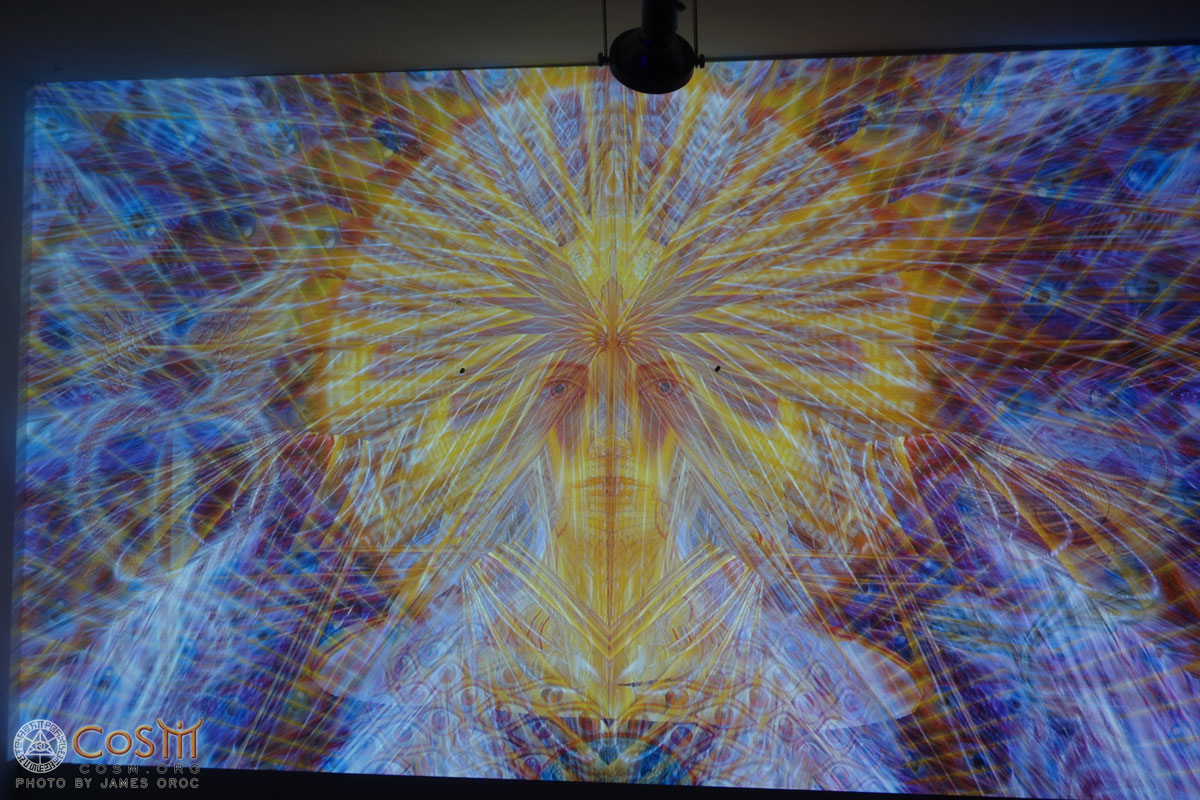 Alex's "Sophia" in mid-remix, digitally projected by Johnathan Singer.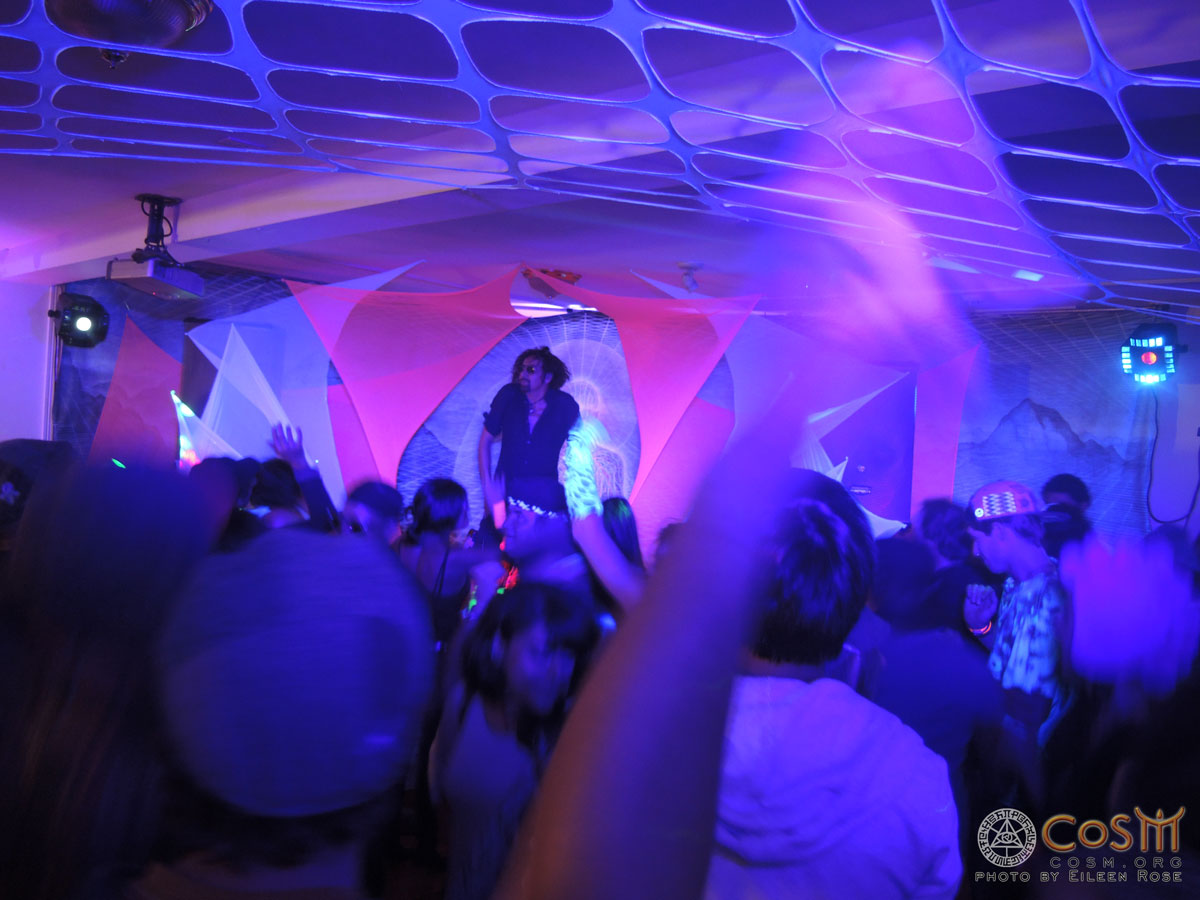 Everybody on the dance floor for Gaudi!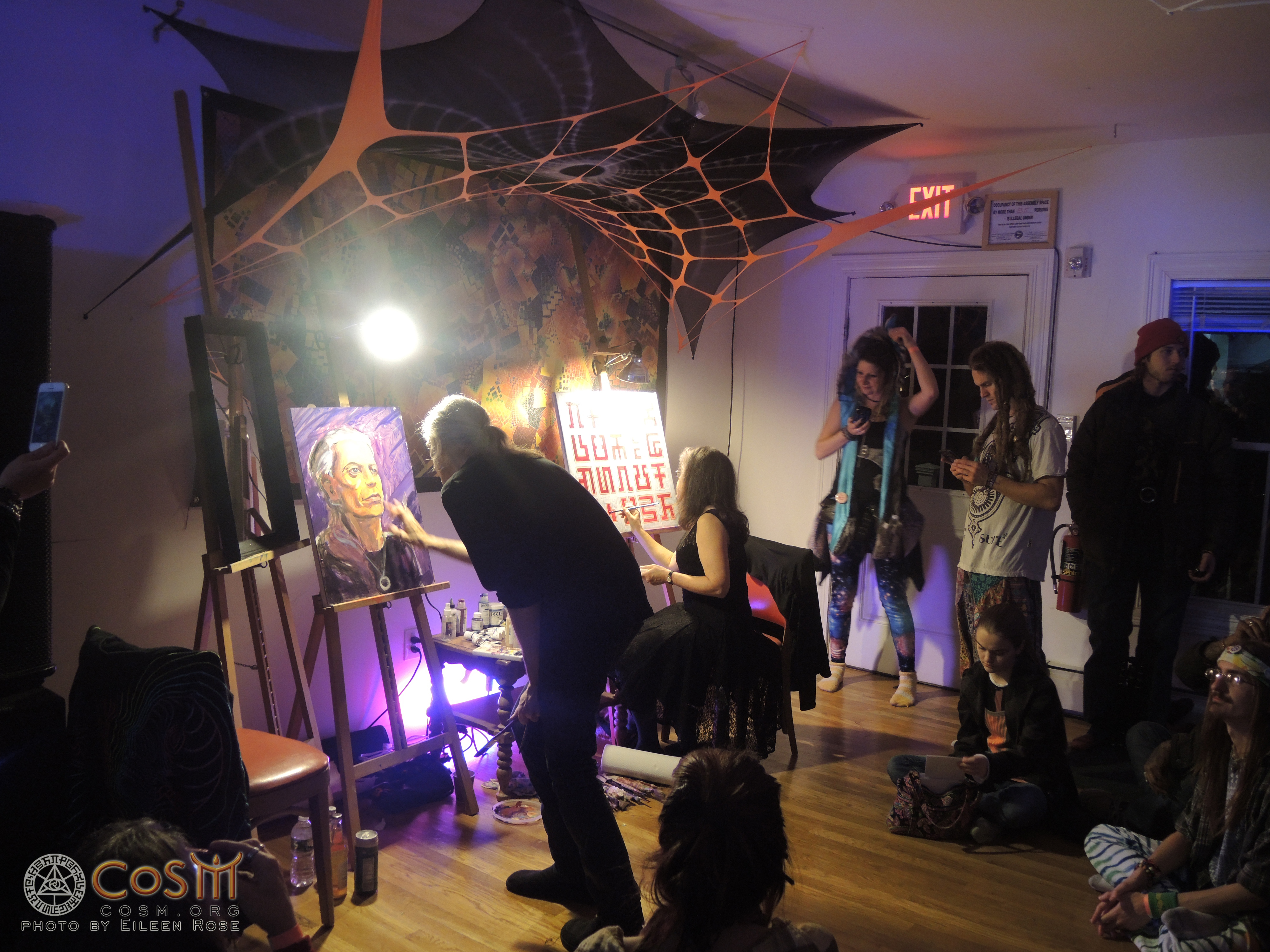 Friends gather around Allyson and Alex as they live paint.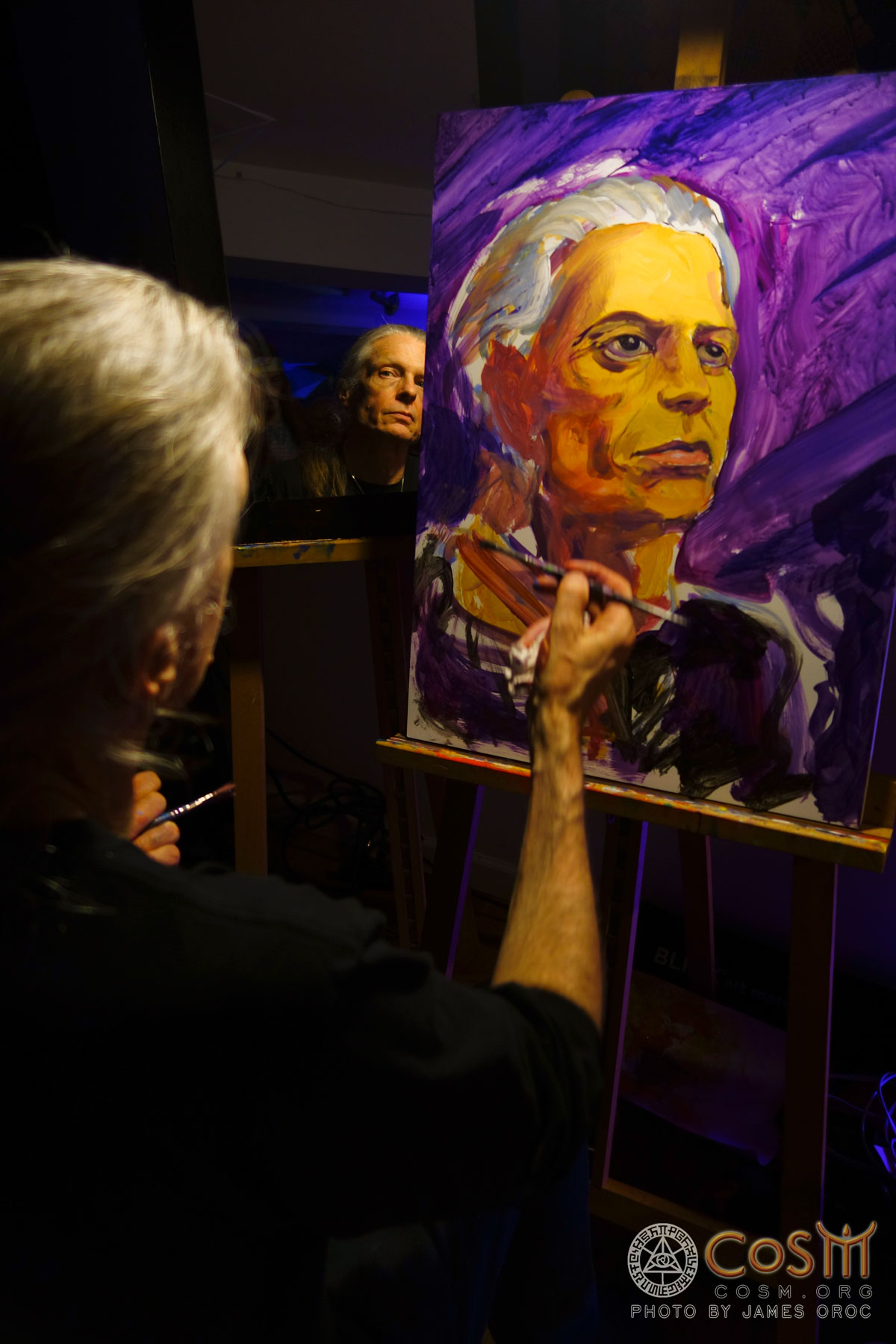 Alex Grey live painting a birthday self-portrait.
Alex, Zena, Brent, and Allyson celebrate around the home-made snake cake.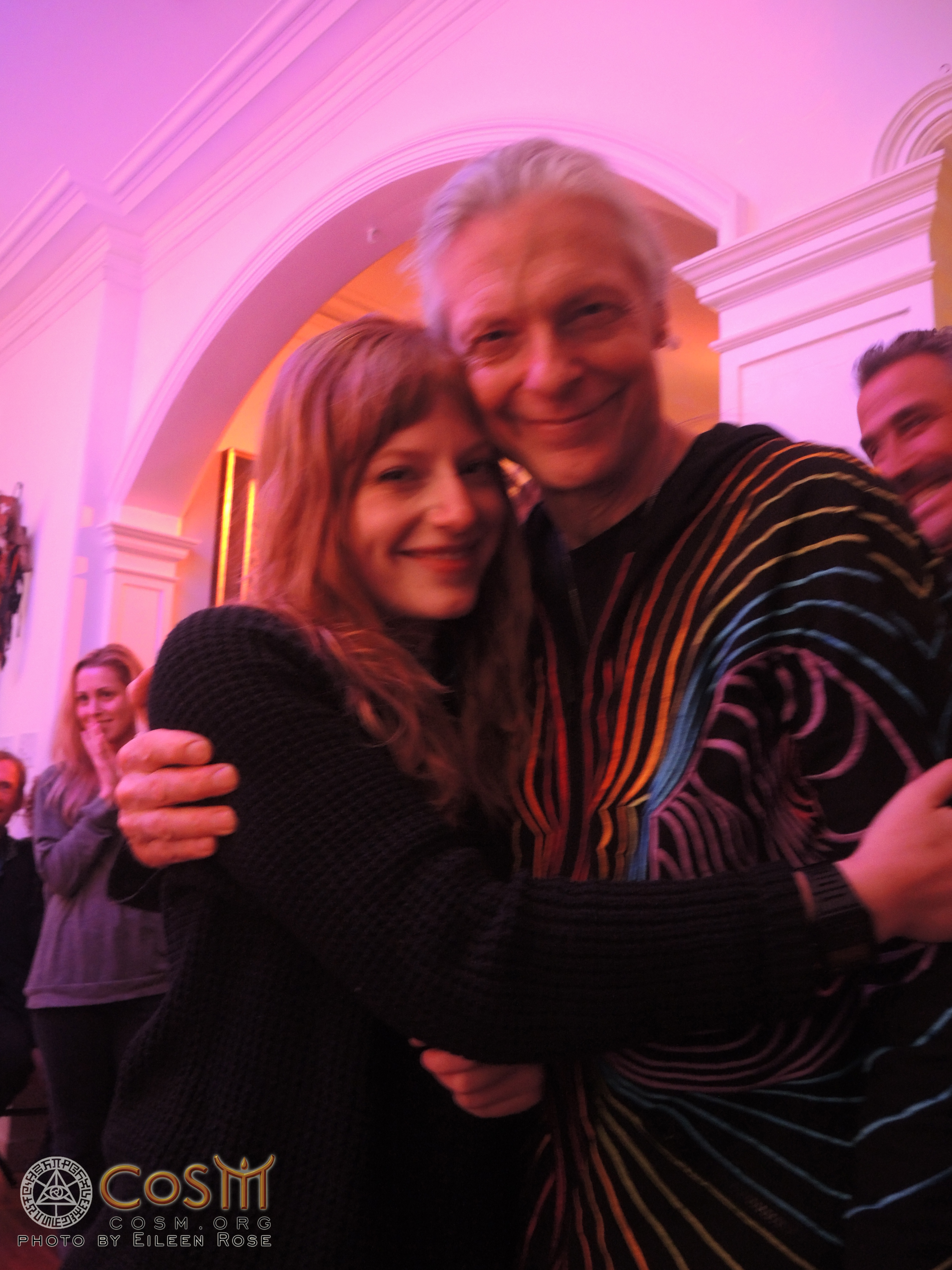 Alex with his daughter, Zena Grey.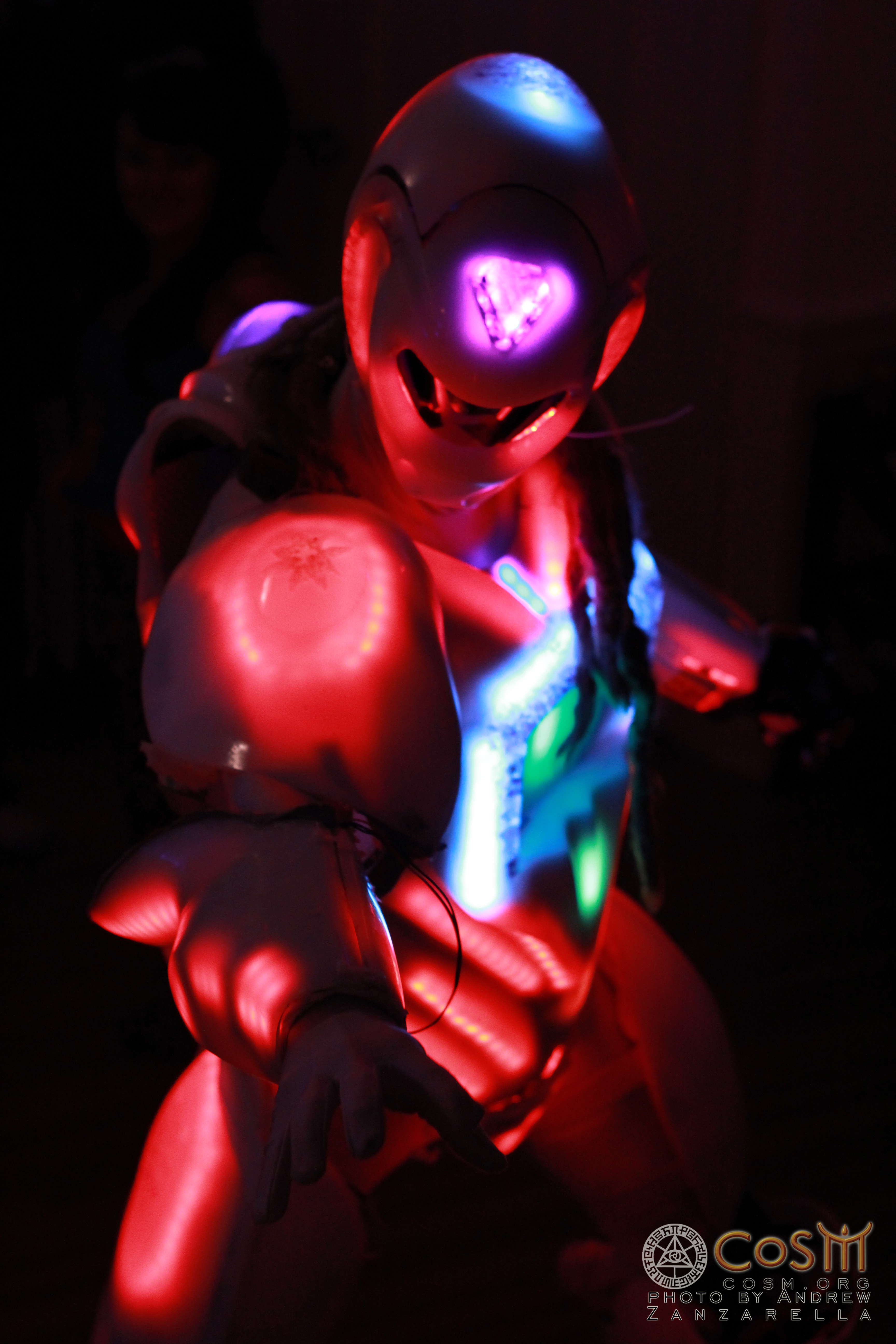 The LED chakra-bot lighting up the party.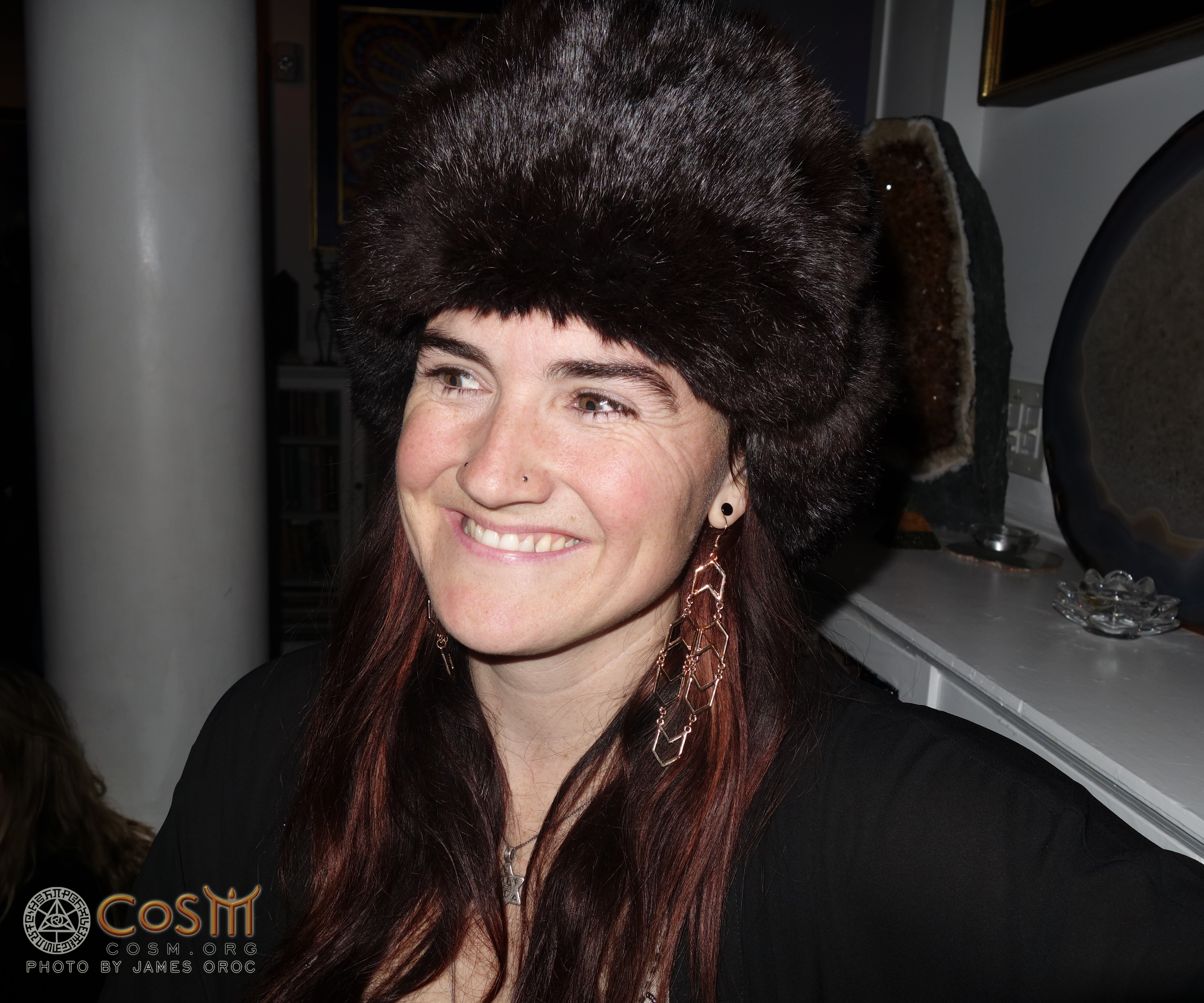 Curator extraordinaire, Jen Ingram of Tribe-13.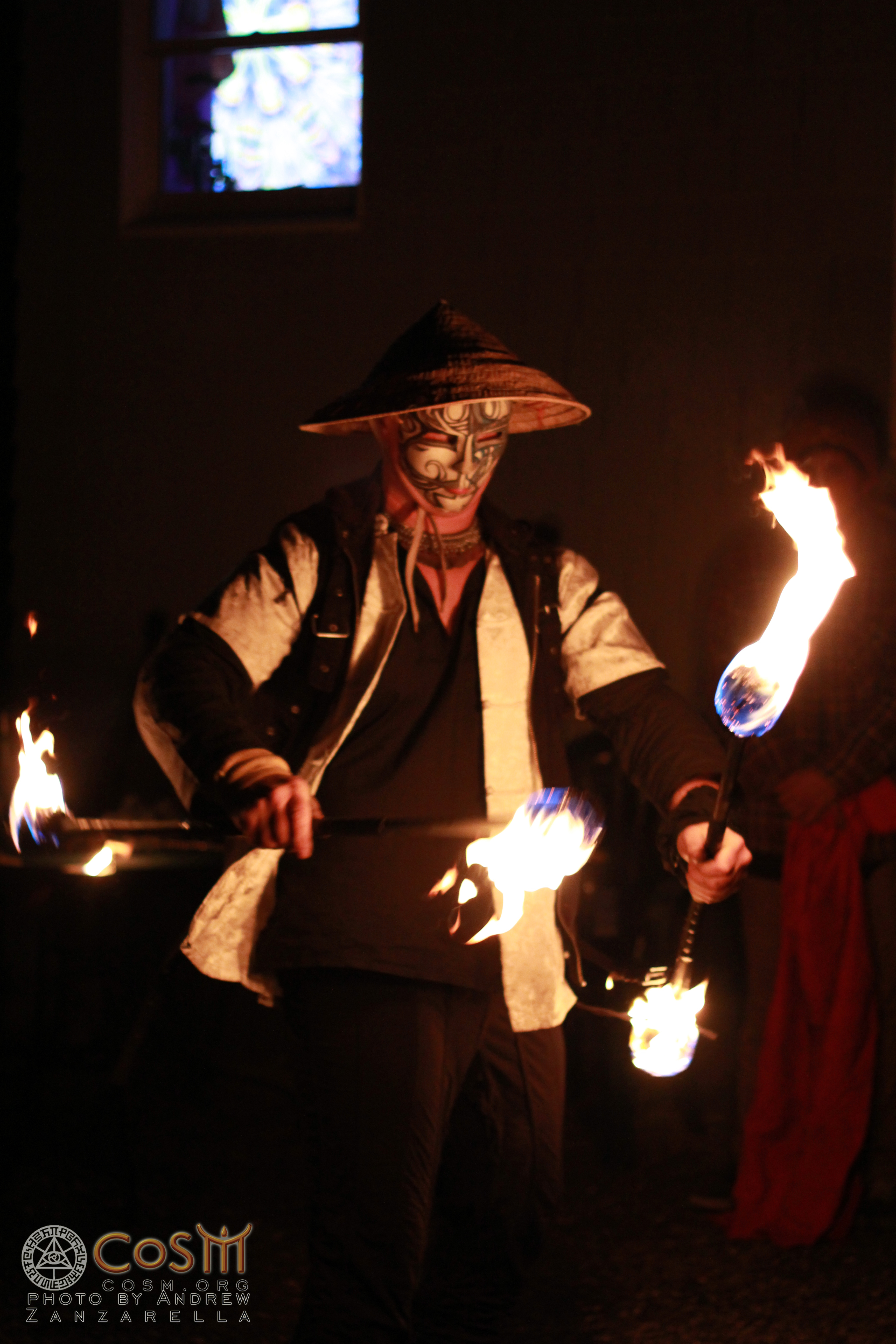 Fire performer, Phantomime.